April 28 2022
As our academic year comes to a close, we at the Faculty of Applied Science and Technology would like to look back and celebrate the achievements of our students under our new "FAST Spotlight" Series.
In this edition of the FAST Spotlight series, we want to highlight the Google Developers Student Club at Sheridan College.
What is the Google Developer Student Club?
Created in September 2021 at Sheridan College, the Google Developers Student Club (GDSC) is a group of talented and dedicated second-year and third-year students from the Faculty of Applied Science and Technology interested in learning and improving their developer technologies skills.
The purpose of this club was to give students the opportunity to use theoretical concepts they learned in class to be applied in practice. It provides them with the support they need to continue bridging the gap between theory and application. Members learn in-demand technical skills, participate in hands-on workshops and projects, and advance their network by connecting with students around the world.
With the steadfast leadership from Hoda Abokhadra, founding member and the student lead, Sheridan's GDSC has had a very successful first year.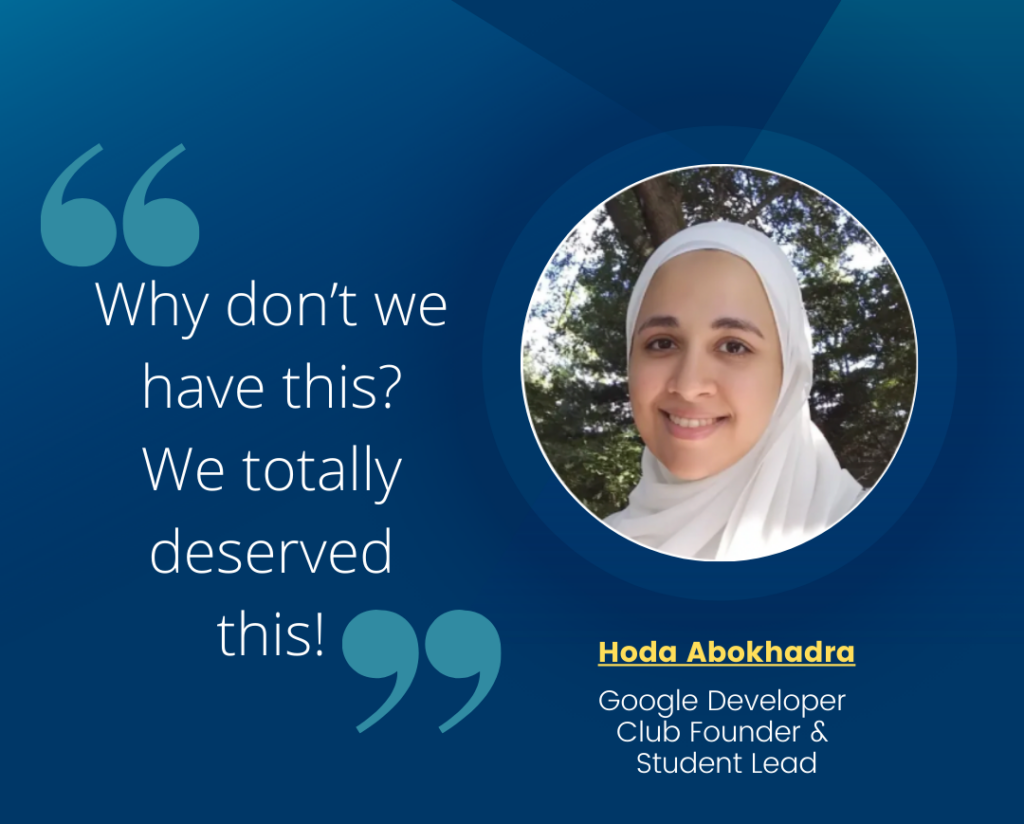 Unlike most clubs at Sheridan, the student lead for the GDSC is selected by Google Inc. In January of 2021, Abokhadra was seeking resources to build her skills as a developer and sought to join the annual GDSC Hackathon Challenge. However, Google required that any student interested in being part of the Hackathon must join through their local GDSC, which Sheridan College did not have.
Seeing this gap and knowing that many of her fellow students also wanted to have opportunities this club could provide, she applied to Google for Sheridan's own GDSC.
Her impressive resumé and extensive experience with community involvement led to a one-to-one interview with Google. During the interview, Abokhadra emphasized the capability of our students to compete with any college or university around the world and the need for a club like this at Sheridan College to help grow the talents of our FAST students.
Abokhadra's interview was successful. Sheridan College welcomed its official Google Developers Club in the Fall of 2021.
Bragworthy successes
In the short time this club has been active, it has accomplished impressive feats. Some of these successes include:
joining 15 universities and colleges in organizing and hosting a Google Cloud campaign (30 Days of Cloud)
Google's highest-earning school in North America against 75 universities and colleges and over 350 students
securing 45 badges of completion
Hoda Abokhadra earned the highest number of courses/badges of any student in North America with 26!
Supporting students
The club is also committed to helping other students at Sheridan.
They have hosted multiple workshops for first year-students to get a better grasp on understanding basic object-oriented programming concepts, earning praise from Google's regional managers.
They have also held events such as Interview Prep to support students through the job search process, especially solving coding problems to help with the technical testing part of the interview.
What's Next?
With all these accomplishments within a year, is the club winding down for the summer? No! The club is organizing Regional Android study jams this month and the club's co-lead Andres Munevar is developing the club's website with React – launching in the upcoming weeks.
To join or get involved with Sheridan College's Google Developers Clubs, please visit: https://sheridancollege.campuslabs.ca/engage/organization/gdsc