March 11 2020
The Skills Sheridan Competition gives current Sheridan students an opportunity to put their education and skills training to the test in a discipline-specific activity. They not only compete against their peers, its also a chance to find out what they are capable of and in some cases, prepare them to compete in Skills Ontario events, after which our event is fashioned for that reason.
Where this exciting tradition began in the School of Skilled Trades & Apprenticeship in 2018, it is now a college-wide event.
The 3rd annual event of its kind, held on the Davis Campus on March 4th, was fantastic! This year, Skills Sheridan was sponsored by 12 businesses, and over 200 students participated in 14 disciplines. We expect these numbers to keep growing.
Also new in 2020 was the inclusion of Dual Credit students from local high schools.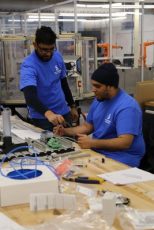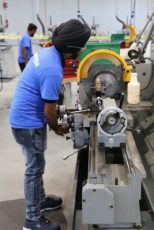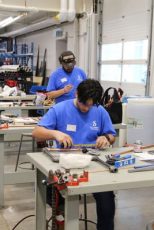 Our utmost gratitude for the day's success goes out to our sponsors, the many Sheridan staff involved from various schools and departments, and especially to the participating students.
Browse the event's photo gallery!
The top 3 winners in each discipline received a cash prize and a metal presented by Sheridan's President and Vice Chancellor, Dr. Janet Morrison.
A big CONGRATULATIONS to all the winners!
Discipline
Winners
Podium Photos
Architectural
Technology
1st: Matthews Woldemichael
2nd: Jordan Duong
3rd: Filipe Bohorquez Alvarez
It Office Software
Applications
1st: Nancy Nguyen
2nd: Avni (Andy) Patel
3rd: Parth Thummar
Web Design &
Development
1st: Samantha Belbeck
2nd: Sahashra Rajbhandari
3rd: Anthony Reyes
IT Network
Systems Admin
1st: Aman Bhanvadia
2nd: Sagar (Piyushkumar) Patel
3rd: Jashandeep Kaur
Electronics
1st: Anjali Prajapati
2nd: Amarvir Singh
3rd: Dhruvi Harenkumar Sasani
Polymechanics
& Automation
1st: Alexey Turceaninov
2nd: Mark Llovit
3rd: Raymond Sun Kit On
Mechanical CAD
1st: Rahul (Rakulkumar) Patel
2nd: Sharankumar Patel
3rd: Hemran Ahmadi
Mechatronics
1st: Hugo Daniel Torres Bahamon
& David Szot
2nd: John Bouma &
Serhii Rubtsov
3rd: Mohammed Kasim &
Theiviyan Devadaas
Electrical
Installations
(Dual Credit)
1st: Evan Zammit
2nd: Zachary Bogert
3rd: Calvin Bell
Electrical
Installations
1st: Rex (Hoan) Truong
2nd: Nicholas Slivocki
3rd: Bhoj Khamraj
Plumbing
1st: Stephen Meikle
2nd: Noah Van Haaster
3rd: David Chauhan
Precision
Machining
1st: Andrew Laskoski
2nd: Duc Bui
3rd: Ravneet Sahota
Automation
& Control
1st: Michael Chebat
2nd: Matthew Mercer
3rd: Marek Ross
Welding
1st: Angel Pacheco
2nd: Axel Collins
3rd: David Rowe