Every year at this time, the Sheridan Architectural Technology Studio 6 students submit their mid-term schematic designs for an adaptive-reuse project. A cumulative, semester-long project, Studio 6 students in the final term of their diploma program work on a real-world renovation project.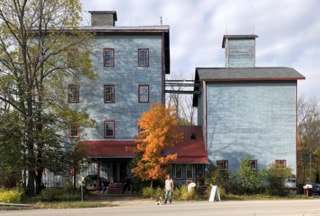 This year, the Studio 6 project featured a heritage grist mill in Paisley, Ontario. The owners were looking to re-purpose the silo portion of the building. Students were directed to experiment with any function they thought would be interesting and viable.
In an effort to provide the students with objective and professional feedback, and as an alternative to the yearly, in-person Design Carousel, student projects have been posted on an interactive blog for comment and feedback.
All professional comments are welcomed and will provide a great opportunity for students to receive constructive feedback about their project, with the end goal of developing and growing their architectural knowledge and skill set. By receiving feedback, students can learn from the knowledge, impressions and suggestions of professionals. Plus, this is a great way for students to connect with the larger architecture community, especially as they graduate and enter the workforce this spring.