The Sheridan Engineering Society is an academic club in which engineering degree students come together to promote a positive undergraduate experience among its members through representation of student opinion in support of academic, professional and social needs.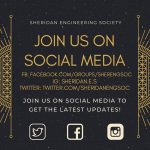 Events Search and Views Navigation
No matching events listed under Sheridan Engineering Society. Please try viewing the full calendar for a complete list of events.
Calendar of Events
Calendar of Events

| Sunday | Monday | Tuesday | Wednesday | Thursday | Friday | Saturday |
| --- | --- | --- | --- | --- | --- | --- |
| 25 | 26 | 27 | 28 | 29 | 30 | 1 |
| 2 | 3 | 4 | 5 | 6 | 7 | 8 |
| 9 | 10 | 11 | 12 | 13 | 14 | 15 |
| 16 | 17 | 18 | 19 | 20 | 21 | 22 |
| 23 | 24 | 25 | 26 | 27 | 28 | 29 |
| 30 | 31 | 1 | 2 | 3 | 4 | 5 |
+ Export Events